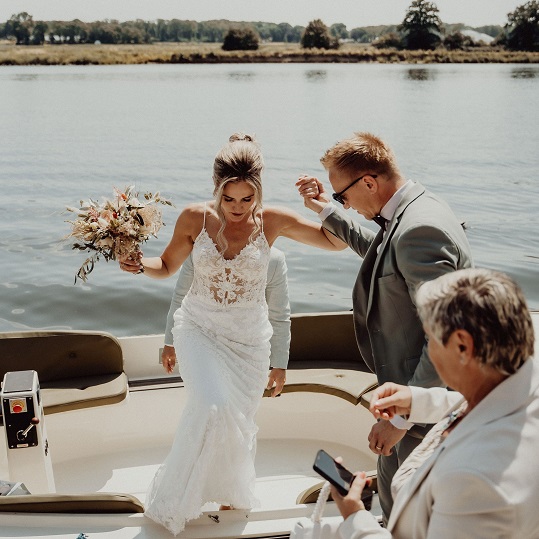 Water is a symbol for life, but also for infinity and the elusive. With our silent motor sloops, Sloepverhuur Limburg is able to give you the opportunity to experience the symbolism of water during an important event in your life, at times of sorrow or joy.
The sun is sparkling on the water with the fairytale Kasteel De Keverberg in the background. Pretty as a picture! What a wonderful experience to embark on your marriage by boat. Sloepverhuur Limburg can make the best day of your life even more special with our  partner Kasteel De Keverberg.
Here comes the bride… via the river Maas
Your guests don't know anything yet and they are waiting patiently for you on the Maas terrace at Keverberg. The happy couple go on board our beautifully decorated sloop a kilometre upstream. We will then bring you by water to Kasteel De Keverberg where your friends and family will wave to greet you from their spot on the Maas terrace. We will moor at the 'Kesselse trappen' (Kessel steps) and the Captain will lead you through the pretty castle gardens to your destination.
Wedding photos on the river Maas
After the wedding ceremony, the newly weds embark on married life by stepping into a boat at the foot of hilltop castle Kasteel De Keverberg. We will make a short sailing trip while the photographer shoots the most beautiful pictures.
Sloepverhuur Limburg offers you the opportunity to say farewell to your loved one by scattering their ashes on the Maas.
In consultation, we will determine the length of time you want to spend and whether you want to sail with a captain so you can focus on the farewell. If you wish, we will also make a reservation for your group in one of the pleasant local restaurants for you to have coffee together afterwards or lunch or dinner while sharing memories of your loved one.